Professional Corporate Headshots are one of the most important pieces of marketing collateral you have. They're the first thing potential clients and customers will see, and they can make a big difference in how they perceive your company.
That's why it's so important to have professional corporate headshots taken. With professional headshots, you can ensure that you're putting your best foot forward and making a great first impression.
Here are just a few of the benefits of having professional headshots: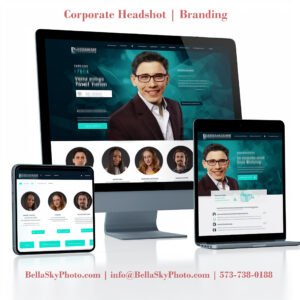 They make you look more professional and trustworthy.
They help you connect with potential clients and customers on a personal level.
They can help you improve your online presence.
They can be used for your website, social media, and marketing materials.
If you're looking to make a great first impression, then you need to have professional headshots taken.
If you happen to read this, contact us today to schedule your session!
Visit our website to learn more about our corporate headshot services.
Call us today at 573-738-0188 to schedule your session.
Use the hashtag #professionalheadshots on social media to show off your new headshots.
Limited time offer:
Thanks for reading and Surprise!! –Here is a 20% discount offer on all corporate headshot sessions. Contact us at  today 573-738-0188 or info@bellaskyphoto.com to take advantage of this offer!