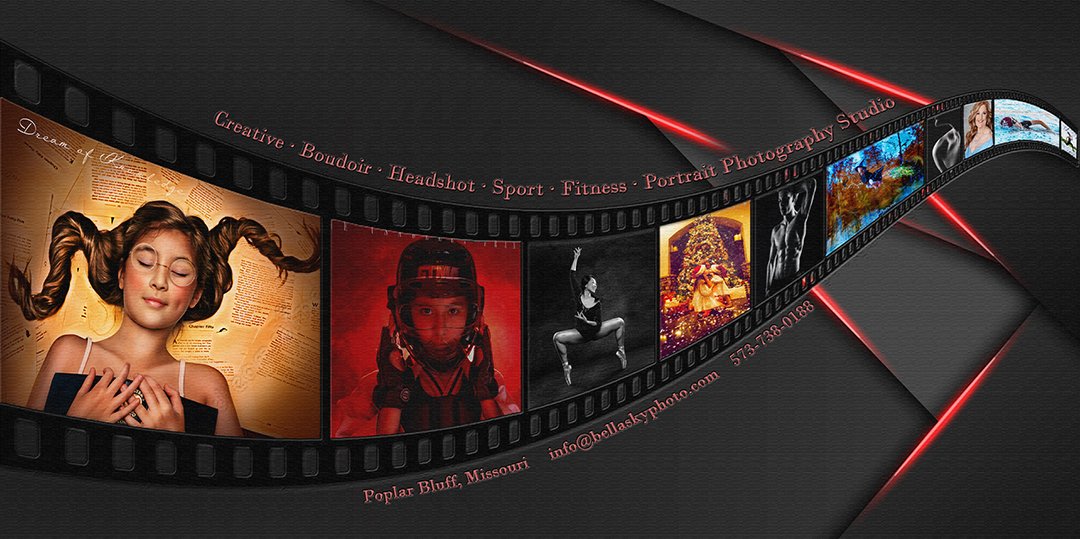 Poplar Bluff Portrait Photographer for those who are creative and dare to be different
Poplar Bluff's Premier Portrait Studio Producing
Vibrant,Sophisticated,Elegant Portraitures
Bringing out the beauty and elegance in you and your special moments is what I am most passionate about!
From children's portrait to fashion portraiture, to boudoir body positivity. I create images that you will fall in love with, images that tell people your story and allow you to pass your memories onto the next generations.
All Available Portrait Session Types
Here at Bella Sky Photography, Headshot, Traditional Portrait, Fine Art Portrait, Glamour Portrait, Surreal Portrait are available to fit your needs.
Take a look at my porfolio, reach out to talk about your vision; let's create your portraitures!
Benefits of Working with A Pro
Mobile phone technology has made photography more accessible; however, some situations require the touch of a professional photographer like me.
Just as you may have a garage full of tools to perform those do-it-yourself projects, when you want something done right, and something that will last, you call a professional. The same should go for your portraiture!
I am a proud PPA (Professional Photographer of America) member, published photographer, magazine covers artist, as well as a leading professional photographer in the Poplar Bluff, MO professional photographers directory. With my equipment and expertise, I always give it my best shot! I capture art quality images, and provide you with high-end prints you can share with your family for years to come!
LOVE NOTES FROM THE CLIENTS
If you guys haven't booked a shoot yet, DO IT!!! I had so much fun and Yina Franklin was awesome! She even brought my favorite drinks and snacks. The album is amazing quality and the pictures are gorgeous.
Yina I can't thank you enough for these wonderful pictures, they are amazing! They really show my son's beauty!
You have a gift and sure know how to work that camera! And you did great with Will!
Yina, You are amazing girl!!! We like all the pictures you took for Gus
I'm having a hard time to choose ..because every picture is beautiful!
You are an amazing talent. You not only create beautiful art, but irreplaceable memories. The family photos you took for us are priceless treasures, especially with the recent loss our father. I highly recommend Bella Sky Photography and its gifted photographer, Yina Franklin.
Yina, you're an amazing photographer!! You're incredibly talented and creative!! You'd be the first person I'd recommend!!
I love them all so so much
 The mirror and cloud ones were my absolute favorite. So moody. You made me look really good
Interested in a session? Or, just want to clarify a question you have? The form below is the best way to reach out. I'll get you some answers, or get you on the calendar!
I work to respond to inquiries ASAP, so please keep an eye on your inbox (and your spam/junk folder in case) once you've sent your message. Don't hesitate to text me at 573-738-0188 if you don't see a reply in 24 hours.