Boudoir print decor – Why it's a must-have!
So your boudoir session is done, now what? Of course, you could post them online or give some to your significant other. But have you considered prints:
Let me introduce you to the Italian made, Fine Art Leather Album. Hold this in your hands and you will see why it is the most popular way women get their portraits printed. They come in a range of leathers and sizes, depending on if you want it to be discrete or for your portraits to have an impact!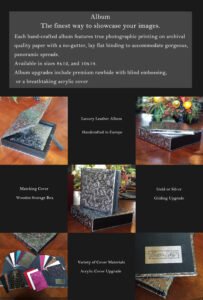 If you has some space in your house. It's the perfect way to see your art up on the wall each day. Not just that, but these can serve as daily affirmations of your strength and beauty.
A few ideas of where someone can hang these up:
The closet wall on your significant other's side – or your own side!
Grouped prints above your bed.
One large picture in your master bathroom.
A private hallway or walking space.