The annual Poplar Bluff Middle School honor choir concert was held on Tuesday, April 4, 2023, at Westwood Baptist Church. The choir, which is made up of the best singers from 4th, 5th and 6th grades, directed by Mr. Tim Fain, and Mrs. Jenna Whitworth, has performed beautifully. The audience was captivated by the choir's clear voices and impeccable harmonies.
First, the 4th grade singers began the concert by their energetic the performance. Next, the 5th grade singers performed a selection of contemporary pieces, including "Isn't it Amazing", "Listen to the Wind", " Make it Shine" and "Busy, Busy Bumblebee". The choir's performance of these pieces was passionate. The audience was clearly enjoying the choir's performance, and many had been tapping their feet in their seats on beats. Then, the 6th grade singers brought us the performance of  "The Fox", "Lightning", "Amazing" and "Moonrise".
Last but not least, other music teachers joined the choir. And then all the students sang national anthem at the end of concert. The choir sounded absolutely beautiful, they were so in tune and their voices blended so well together!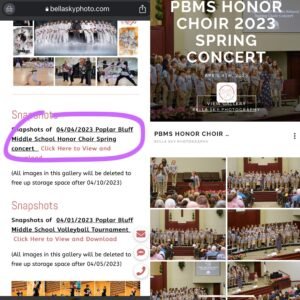 It has always been my pleasure to capture these wonderful moments. I have uploaded the Spring 2023 concert photos here for download: https://bellaskyphoto.com/sport-photography
(However, as usual, in order to free up storage space after, I'll take the gallery down after 04/10/2023)
Poplar Bluff Middle School Honor Choir concert was a resounding success. The concert was a great opportunity for the choir to showcase their talents and to share their love of music with the community. The choir's performance was a testament to their hard work and dedication.
What's more, the choir will be singing the national anthem at the Cardinals Game on Wednesday!! The choir should be proud of their performance, and the district should be proud of their talented students.