Have you thought about taking your boudoir photos by the river?
If you are an outdoor person who loves nature, you should!
When Ms. M reached out for a boudoir session by the current river, I was hesitated at first because I am not an outdoor person, but then I thought why not? I'm so glad I did it. It was a blast! Her photos turned out stunning!
I can't wait and hope more clients wanting boudoir photos by the river.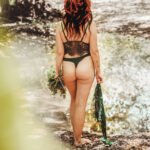 Visit https://bellaskyphoto.com/boudoir to learn more.