Bridal boudoir photo shoot is not a new words at all nowadays.
All the brides-to-be are looking forwards to the day that they are offically going to spend their life with the one they love! How excited! Many brides-to-be also have planned to give their men one of the ultimate sensual gifts–boudoir photos.
So…What to wear for your bridal boudoir photo shoot if you have scheduled one?
First of all, lingeries, obviously!
But seriously, not much different from general boudoir shoot, wear any lingeries that you love and comfortable with for your bridal boudoir shoot
However, since it's Bridal boudoir, besides the basic bras and panty set, I would recommend: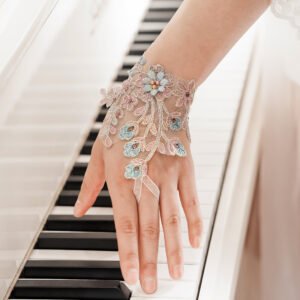 Lingeries of same color as your wedding dress ( white lace in most cases; red and silky for some other cultures)
Veil if you have one, especially the floor length veil–OMG!!
Lace corsets–these classy babes flatter all body types!
Your wedding shoes;
Your engagement ring;
White bed sheet (again, it could be red or other color if you have a different culture background)
Your birthday suits–Yep, that's THE BEST!  (As long as you're comfortable with that in front of camera, of course).
Some other jewelries or accessories.For example, a pair of french lace gloves or barefoot sandals, they bring a touch of your sexiness and will definitely spice up your wedding night. (my two cents, bridal boudoir doesn't have to be all white…)
Join Our Ladies Only Group